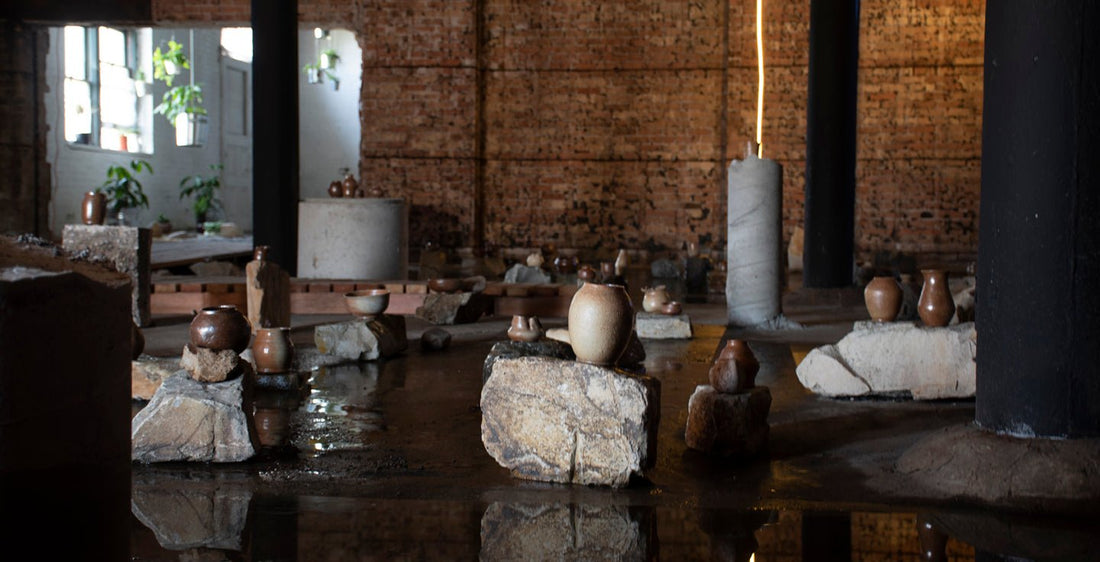 Fashion Magazine Amour Fou and Alethea Magazine cover Limnal Lacrimosa
Alethea Magazine, Fashion Magazine Amor Fou, and Art Magazine cover Limnal Lacrimosa: Download the full PDF
Limnal Lacrimosa is an art installation at 5 6th Avenue West. Limnal Lacrimosa celebrates the richness of the valley, from its glaciers and lakes to its cultural history of art and ceramics. Located in the original Kalispell Malting and Brewing Company building, the exhibition also pays tribute to the heritage of Kalispell's breweries. To construct the exhibition, American artist Mary Mattingly collected snowmelt and rainwater, some of which dripped through holes in the building's roof. By directing the water through pipes just below the ceiling, she is able to evoke the feeling of rain in the building and meditate on water courses. The drops are caught in teardrop vessels as the sound of the drops hitting the vessels echoes through the room. Eventually the vessels fill, the water pours onto the floor and the cycle repeats. The artwork was inspired by Kōbō Abe's novel "The Woman in the Dunes", a story about two people who have to remove sand from a building forever. The speed of geological change in Glacier National Park is also a reason for the work. Over the course of nine months, the exhibition space at 5 6th Avenue West will change several times. Amour Fou & Art had the opportunity of an exclusive interview with the artist: 
INTERVIEW
Amour Fou and Art Magazine: Where are you right now and are you working on a new project?
Mary Mattingly: I'm currently in Montana working on a project called Limnal Lacrimosa. (www.limnallacrimosa.com)
Amour Fou and Art Magazine:
Through which event were you inspired to deal with the environmental issue?
Mary Mattingly:
Around the year 2000 when Bechtel and the World Bank had privatized water in Bolivia and many people couldn't afford the cost, I became more aware of how people around the world were stewarding commons.
Amour Fou and Art Magazine:
What is the message of your art and what do you wish for the future?
Mary Mattingly:
People are place-based, and have an interest in stewarding their surroundings, and by proximity the greater surroundings which connects everyone. I hope offcials grant more agency to individuals and communities to help care for our common spaces.
Amour Fou and Art Magazine:
What materials do you prefer to work with?
Mary Mattingly:
I prefer working with reused materials to build something that transforms their original use and meaning.
Amour Fou and Art Magazine:
Have you achieved a concrete measure with your art and activism?
Mary Mattingly:
Well with Swale, a food forest on a floating barge, we helped convince NYC to allow edible forestry on public lands. It has been illegal to forage foods from public lands for about 100 years here.
Amour Fou and Art Magazine:
What advice would you give to artists who want to use their art to protect the environment?
Mary Mattingly:
Art can change perceptions. Through art we can share what we believe and speak our truth through sharing how to see differently...

Link to Amour Fou