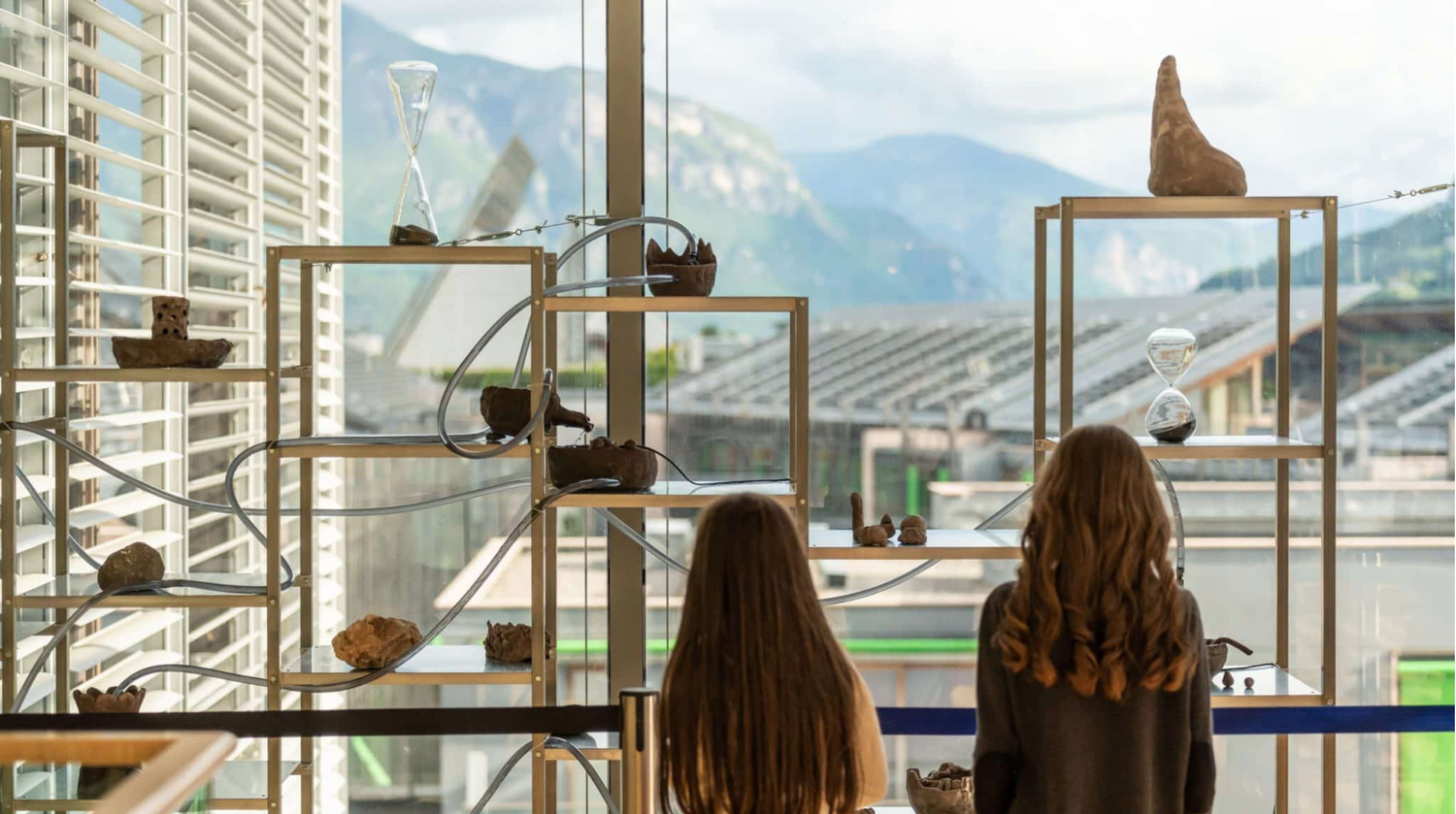 Artist, partner, daughter, sister, and collaborator. Raised in an agricultural town with a textile mill near Springfield, MA, I've lived in NYC since 2001.
Where I grew up, the drinking water was toxic from agricultural chemicals. That framed my understanding of access to clean water as increasingly rare, but also strengthened my resolve that it is both a right and responsibility to protect. 
I create sculptural ecosystems that prioritize food, shelter, and clean water, resulting in participatory projects around the world. In 2016, I led Swale, a floating sculpture and edible landscape on a barge in New York that depended upon waterways common law and instigated NYC Parks first public "Foodway."
Beginning with a vision, I create collages and photographs that imagine alternative futures.
My artwork has been able to be shown at institutions such as Storm King Art Center, Palais de Tokyo in Paris, Seoul Art Center, the International Center of Photography, the Brooklyn Museum, Barbican Art Gallery, and Museo Nacional de Bellas Artes in Havana.
These projects have been generously supported through grants including the Guggenheim Foundation Grant, the James L. Knight Foundation, the Harpo Foundation, NYFA, and Jerome Foundation.  They have been featured in documentaries and publications, including Art21, Le Monde, and The New York Times.
Please keep in touch!
Collapsible content
Click here to view my full CV

BOOKS

Bell, Nicholas, Julie Decker, Sergio Bessa, Kristine Wong, Heather Davis, Stephanie Wakefield, Gean Moreno, and Stan Cox, What Happens After, Hirmer, 2022
Boetzkes, Amanda, Climate Realism ed. Lynn Badia, Marija Cetinic and Jeff Diamanti, Routledge Press, 2019
Weintraub, Linda, What's Next? Eco Materialism and Contemporary Art, University of Chicago Press, 2019.
Yuha Jung, Ann Rowson Love, Systems Thinking in Museums: Theory and Practice, Rowman & Littlefield, 2017
Muller, Ellen. Elements and Principles of 4D Art and Design, Oxford University Press, 2016.
Sayre, Henry, A World of Art, 8th edition, Pearson Education Inc. Lawrence King Publishing, 2015.
Davis, Heather and Etienne Turpin, Art in the Anthropocene: Encounters Among Aesthetics, Politics, Environments and Epistemologies Open Humanities Press, 2015.
Speculations ("The future is ______"), Triple Canopy, 2015.
Michaels, Maria, Media Art and the Urban Environment: Engendering Public Engagement with Urban Ecology Springer-Verlag, 2015.
Tsai, Eugenie and Rujeko Hockley. Crossing Brooklyn, Brooklyn Museum, NY, 2014.
Common Spaces, The Whitney Museum, NY, 2014.
Goldfarb, Maximilian and Matt Bua. Drawing Building, Lawrence King, 2012.
Kastner, Jeffrey. Nature, Documents of Contemporary Art Series, Whitechapel/MIT Press, 2012.
Sullivan, Lexi Lee, Temporary Structures, deCordova Museum and Sculpture Park, 2012.
Bogre, Michelle, Photography as Activism: Images for Social Change, Focal Press, 2012.
R. Klanten, S. Ehmann, K. Bolhfer, My Green City, Gestalten, 2011.
Water, Prix Pictet, teNeuse, 2009.
Au Feminin, Centre Culturel Calouste Gulbenkian, Paris, 2008.

 

SOLO EXHIBITIONS
2023: "Ebb of a Spring Tide." Socrates Sculpture Park, Queens, NY
2021: "Pipelines and Permafrost." Robert Mann Gallery, New York, NY
2020: "Wearable Homes." Anchorage Museum Anchorage AK
"Scarred Landscapes." National Arts Club, New York, NY
2019: "Last Library." Contemporary Art Museum, University of Colorado, Boulder CO
"Open Ocean." Mystic Seaport Museum, Mystic, CT
2018: "Because for Now There is Still Poetry." Robert Mann Gallery, New York, NY
"What Happens After?" BRIC Brooklyn, Brooklyn, NY
2017: "I'll go on." Versailles Foundation, Monet's Garden, Giverny, FR
"I'll go on." Watkins School of Art, Memphis TN
2016: "Objects Unveiled: Boxing, Rolling, Stretching, and Cutting." Institute for the Humanities, University of Michigan, Ann Arbor, MI
"Mass and Obstruction" Light Work, Syracuse, NY
2015: "Pull." Museo Nacional de Bellas Artes de la Habana, Havana, Cuba
2014: "Mary Mattingly." Bemis Center for Contemporary Art, Omaha, NE
2013: "House and Universe." Robert Mann Gallery, New York, NY
2011: "The Island is also the Origin." WINTEC, Hamilton, New Zealand
"The Investigation, Constitution, and Formation of Flock House." Lower Manhattan Cultural Council, NY
2010: "The Anatomy of Melancholy." Occurrence Espace d'art et d'essai Contemporains, Montreal
2009: "Nomadographies." Robert Mann Gallery, New York, NY
2007: "Frontier?" Galerie Adler, Frankfurt, Germany
"Time Has Fallen Asleep." New York Public Library, New York, NY
2006: "Fore Cast." White Box, New York, NY
"Second Nature." Robert Mann Gallery, New York, NY

 

SELECTED GROUP EXHIBITION
2023:  Pardo, Alona. "RE/SISTERS: Ecologies, Communities and Survival" Barbican Art Gallery, London, UK
Haslinger, Sophie. "Mining Photography. The ecological footprint of image production" KUNST HAUS WIEN GmbH. Vienna
2022:   Rakhimova, Laziza. "Reconnections: In Kinship with Nature." United Nations, NY
Bihr, Dr. Judith. "Konsum in der Kunst." Museum Biberach, Biberach, Germany
Best, Makeda, Kevin Moore. "On the Line: Documents of Risk and Faith." Lois and Richard Rosenthal Center for Contemporary Art, Cincinnati, OH
Levin, Boaz and Dr. Esther Ruelfs. "Mining Photography: The Ecological Footprint of Image Production."  Museum für Kunst und Gewerbe Hamburg
Torre, Blanca de la, Eric Zoran. "Con los pies en la Tierra." CAAM Las Palmas

2021: de la Torre, Blanca. "Biocene Biennial." Fundación Municipal Bienal de Cuenca, Ecuador
"Wandamba yalungka/Winds change direction." Performa, New York, NY
Synthetic Collective. "Plastic Heart" CAM at the University of Toronto, Toronto, CA
Patrick Mahon "Gardenship and State." Museum London, Ontario CA

2020: "Overview Effect." Museum of Contemporary Art Belgrade
Fabijanska, Monika. "ecofeminism(s)" Thomas Erben Gallery, New York, NY
Watts, Patricia. "Performative Ecologies" Currents 826, Santa Fe, NM
Burkhalter, Laura. "Researchers: Women Artists Inspired by Science" Des Moines Art Museum, Des Moines, IA
"The World to Come: Art in the Age of the Anthropocene" DePaul Art Museum, Chicago, IL

2019: "Survival Architecture." Museum of Craft and Design, San Francisco, CA
Rosenberg, Randy. "Survival Architecture." Appleton Museum of Art, Ocala, FL
"The World to Come: Art in the Age of the Anthropocene."  University Art Museum, Ann Arbor MI
Spaid, Sue, Blanca de la Torre. "Fingers Crossed." ADN Platform, Barcelona, Spain
"Climate Justice." Museum Arnhem, Arnhem, Netherlands

2018: Storm King "Indicators: Artists on Climate Change" NY curated by Nora Lawrence
Oliver-Smith, Kerry. "The World to Come " The Harn Museum of Art, Ganisville, FL
Rosenberg, Randy. "Survival Architecture." Museum of Natural and Cultural History, Eugene, OR
"New York City Urban Field Station." The Arsenal in Central Park, New York, NY
"A Changing Climate." Hearst Gallery, New York, NY
"Water." OOKulturquartier, Linz, Austria

2017: Adams, Rachel. "Wanderlust." University of Buffalo Art Museum, Buffalo, NY
"Wanderlust 2" Des Moines Art Center, Des Moines, IA

2016: Grover, Andrea. "Radical Seafaring." The Parrish Museum, Watermill NY
Decker, Julie. "Polar Lab." The Anchorage Museum, Anchorage, AK
Voeller, Megan. "Extracted." University of Southern Florida Contemporary Art Museum, Tampa, FL
Boseul Shin, Nathalie. "Scarcity and Supply" Nanjing International Art Exhibition, Nanjing, China

2015: Fisher, Cora. "Collective Actions." Southeastern Center for Contemporary Art. Winston Salem, NC
"WetLand." Schuylkill Center for Environmental Education, Philadelphia, PA
"Consumed." University Art Museum, University of California Long Beach

2014: Guruli, Magda, Lydia Matthews. "Artisteria." Literature Museum, Tbilisi, Republic of Georgia
Hockley, Rujeko, Eugenie Tsai. "Crossing Brooklyn" The Brooklyn Museum, NY
Carvalho, Denise, Ginger Shulick Porcella. "Beyond Limits." San Diego Art Institute, CA
"Falsework." Blackwood Gallery, Toronto Canada
"A Common Space." The Whitney Curatorial Exhibition, The Kitchen, New York, NY
Bilal, Waafa. "Distant Images, Local Positions." Elizabeth Foundation for the Arts


2013: Clancy, Dana, Lynne Cooney. "System ECOnomies." Boston University, MA
"From Process to Progress: Mary Mattingly and Michael Cataldi." Bronx River Art Center, NY


2012: Rabb, Lauren. "Broken Desert - Land and Sea." The University of Arizona Museum of Art
"Camp Out: Finding Home in an Unstable World." Laumeier Sculpture Park
"Streams of Consciousness: Histories, Mythologies, and Ecologies of Water." Salina Art Center, Kansas


2011: "The Social Landscape." Lianzhou Foto 2011, Lianzhou, China
Shin, Nathalie Boseul. "Labour of Love." Arko Art Center, Seoul, South Korea
"Temporary Structures: Performing Architecture in Contemporary Art." deCordova Museum, MA
"Imagine Earth." Seoul Art Center, Seoul, South Korea
"On the Road." Arlington Arts Center, Arlington, VA


2010: "Dans l'archipel du Waterpod." Occurrence Espace d'art et d'essai Contemporains, Montreal, Canada
"The Nomadic Studio." DePaul University Art Museum, Chicago, IL


2009: "Au Feminin." Culturel Calouste Gulbenkian, Paris, France
"Trouble in Paradise: Examining Discord Between Nature and Society." Tucson Museum of Art, Tuscon, AZ
"Water." Eindhoven University of Technology, Netherlands
"Water – Currents." Thessaloniki Museum of Photography, Greece
"Prix Pictet." Palais de Tokyo, Paris, France


2008: "Future Tense, Reshaping the Landscape." Neuberger Museum of Art, NY
"Video Visionen, O eins." Edith Russ Site for Media Art, Oldenburg, Germany


2007: "Other Worlds." Mattatuck Museum, Danbury, CT
"Bivouac." Art Omi, Ghent, NY curated by Maximillion Goldfarb


2006: Triennial "Ecotopia." International Center for Photography, New York, NY

 

BIBLIOGRAPHY 2013 – 2021

2022: Lescaze, Zoë. "How Should Art Reckon with Climate Change?" T Magazine, New York Times

2021: Corbetta, Caroline. "Rebecca Mendes, Agnes Denes, and Mary Mattingly." Domus Magazine
Reiss, Julie. "Public Water." Brooklyn Rail
Englefield, Jane. "Watershed Core is a cyclical installation that filters rainwater in New York." Dezeen
Levere, Jane. "Public Water Presents New York's Complex Drinking Water System in Miniature." Metropolis
Russo, Jillian. "Wandamba yalungka.../Winds change direction..." Hyperallergic
Kent, Charlotte. "Pipelines and Permafrost." The Brooklyn Rail
Bury, Louis. "Pipelines and Permafrost." Hyperallergic

2020: Wickouski, Sheila. "ecofeminism(s) Connects Feminism, Art and Eco-Consciousness." Ms Magazine
Weintraub, Linda. "ecofeminism(s) - Thomas Erben Gallery." Flash Art
Jones, Alex A. "ecofeminism(s)." The Brooklyn Rail
"Mary Mattingly is the Brooklyn Public Library's Artist in Residence." Artforum
Libbey, Peter. "Mary Mattingly Named Brooklyn Public Library's Artist in Residence." New York Times

2019: Dobrzynski, Judith H. "Tired of Model Ships? Try a Priceless Turner." Wall Street Journal
Gruenberg, Tess. "The Future of Food." Dazed Magazine
"Mystic Seaport Museum to Open New Exhibition." Norwich Bulletin
Dell, Alison. "Collaborating with Nature: Public Art & the Environment." Public Art Dialogue
"Mary Mattingly: Material Supply Chains and Eco-Traumas." The Brooklyn Rail
Schoenhagen, Astrid. "Wearable Homes." wohnen+/-ausstellen
Bellanger, Baya. "Regard sur l'architecture." Réalisatrice

2018: Novick, Ilana. "Taking Apart the War Machine to See What's Inside." Hyperallergic
Lescaze, Zoë. "12 Artists on Climate Change." New York Times
Steinhauer, Jillian. "Mary Mattingly." New York Times
Bury, Louis. "The Ghosts of Our Future Climate at Storm King, Hyperrallergic
"Outdoor Artworks Tackle Environmental Issues, At Storm King." New Yorker
Sayej, Nadja. "Artists on Climate Change: The Exhibition Tackling a Global Crisis." The Guardian
Bury, Louis. "Mary Mattingly's Poetry of Things." Hyperallergic
Silvers, Mara. "This Harvest Season Check Out Concrete Plant Park." NPR

2017: McDermon, Daniel. "Storm King Show to Focus on Climate Change in 2018" New York Times
"Swale." New York Post
Anzilotti, Eillie. "An Urban Food Forest Takes to the Waterways." Bloomberg News
Lippe-McGraw, Jordi. "The Swale Floating Food Forest Is Coming to New York City." Conde Nast
Picht, Jennifer. "NYC's incredible floating park returns this summer." Time Out New York
Levine, Alexandra S. "A Forest Floats on the Bronx River, With Free Produce." The New York Times
West, Kevin. "Will Work with Food." Surface Magazine
"Swale Barge." BBC World
"Swale Barge." CNN Going Green
"Swale Barge." CBS
"Swale Barge." National Public Radio

2016: McCanne, Michael. "Movable Feast: Mary Mattingly's Floating Garden." Art in America
Delson, Susan. "An Artist Floats an Edible Forest." The Wall Street Journal
Wong, Kristine. "Swale." Stanford Social Innovation Review, CA
Steadman, Ryan. "Don't Be Surprised to see a Floating Garden in NYC's Harbor." New York Observer
Biddlecombe, Wendy Joan. "Floating Food Forest to Move Through the NY Harbor." Metro New York
Anzilotto, Eillie. "An Urban Food Forest Takes to the Waterways." The Atlantic
Blakemore, Erin. "New York's Newest Urban Farm Floats." The Smithsonian
2015: Meier, Allison. "Mobile Food Forest to Float the NYC Waterways in Spring 2016." Hyperallergic
Morain, Michael. "Rushing river delays plans for Water Works foot-bridge." The Des Moines Register
Cotter, Holland. "The Havana Biennial is in Full Throttle." The New York Times
Kaufman, Leslie. "WetLand." Sculpture Magazine
Morain, Michael. "A Ripple Effect." Des Moines Register
Simon, Scott. "As U.S. Reengages with Cuba, Art Museums Make a Trade." National Public Radio
Miranda, Carolina. "Arts have been vital U.S.-Cuba link; the thaw will make them better." LA Times
Chapman, Bruce. "Floating World." Winston-Salem Journal

2014: Melhamed, Samantha. "WetLand." The Philadelphia Inquirer
Brantley, Ben. "Fringe Festival, WetLand Philadelphia." The New York Times
"WetLand." Philadelphia Weekly
"WetLand." Philadelphia City Paper
Cotter, Holland. "Common Spaces." The New York Times
"The Flock House Project." National Public Radio
Schwendener, Martha. "A Critic's Picks in Brooklyn, An Embattled Utopia." New York Times
DeTurk, Sabrina. "Distant Images, Local Positions." Afterimage
Schweichler, Alison. "Many groups are working to effect positive change." Buffalo News
Dabkowski, Colin. "'Performing Economies' conference rethinks Buffalo's development through art and performance." Buffalo News
Foran, Jack. "Performing Economies Colloquium." ArtVoice
Heartney, Eleanor. "Art for the Anthropocene Era." Art in America

2013: Estafan, Kareem. "Mary Mattingly." Art in America
Epstein, Joanna Ruth. "House and Universe." ArtNews
Chamberlain, Colby. "Mary Mattingly." Artforum
Aletti, Vince. "Nomadographies." The New Yorker
Schwendener, Martha. "Mary Mattingly: House and Universe." The New York Times
The Lookout. "Mary Mattingly." Art in America
Brara, Noor. "The Weight of Mary Mattingly's World." Interview Magazine
Lindquist, Greg. "The Life of Objects." Art in America.com
Events "Process and Progress: Mary Mattingly and Michael Cataldi." The New York Times

2012: Regan, Margaret. "Scorched Earth." Tucson Weekly
Miranda, Miguel. "The Extremophile." China Business News
Constantino, Marika B. "Shelter Me." Philippine Star
Lippi, Filipina. "Mattingly's Wearable and Portable Architecture." The Manila Bulletin
Valiente, Tito Genova. "Wearing Moving Art: Mary Mattingly's Social Vision." Business Mirror Philippines
"US Cultural Ambassador to Initiate Public Art Project." The Manila Times
Mancuso, Anne. "Photography Shows and Discussions in the Parks." The New York Times
Miller, Nick. "Flock Houses Land in New York's Public Spaces." The Architect's Newspaper
Schwendener, Martha. "Contempo Boat Artists Float Their Ideas." The Village Voice
Vogel, Wendy. "Nature." The Brooklyn Rail
Listings. "Join Artist Mary Mattingly's Flock House Project." Art + Auction
Barone, Laura Elizabeth. "Camp Out: Finding Home in an Unstable World." Temporary Art Review
Diane Toroian Keaggy. "Give me shelter: Laumeier's 'Camp Out' looks at what makes home." St. Louis Post
Kast, Sheilah. "Under Cover: Maryland Morning." WYPR Radio
Listings. "Under Cover." Metropolis Magazine
Appleton, Andrea. "Under Cover at MICA's Decker Gallery." Baltimore City Paper
2011 Boucher, Brian. "Team America - Artists as Cultural Ambassadors." Art in America
Costello, Emily. "deCordova Group Show Redefines Architecture." Lincoln Journal
Bergeron, Chris. "deCordova Exhibit Encourages Visitors to Interact with Art." The Milford Daily News
Risk, Louise. "Mary Mattingly, The Island is also The Origin." Waikato Times
Diaz, Eva. "Dome Culture in the Twenty-first Century." Grey Room
Comeau, Nadine. "Mary Mattingly." Dialect Magazine

2010: Barliant, Claire. "Mary Mattingly: Safe." Icon Magazine
Amara, Luigi. "For an Unsustainable Art." Fahrenheit Contemporary Art
Schwendener, Martha. "Smack Mellon Hosts Condensations of the Social." Village Voice
"A Utopian Barge," Colors Magazine

2009: Michals, Robin. "Facing the Meltdown." Afterimage
Ryzik, Melena. "The Waterpod Artist Heads for the Roof." New York Times
"The Waterpod Project." Sculpture Magazine
Turner, Christopher. "A Floating Island of Sustainability." Nature Magazine
Danigelis, Alyssa. "Eating From the Future." Discovery Channel
Listings. "Water Pod." Sunday Times Style Magazine
Alexander, Heather. "Waterpod to Combat Rising Seas." BBC News
Williams, Brian. "Mary Mattingly on the Waterpod," MSNBC
Ryzik, Melena. "Life and Art, Afloat on a Barge in the New York Harbor," New York Times
Kurutz, Steven. "A Fluid Definition of Self Sufficiency." New York Times
Lazarowitz, Elizabeth. "Water Pod." New York Daily News
Danigelis, Alyssa. "The Water Pod Project." Discovery News
Jothianandan, Shakthi. "The Water Pod." Time Out New York
Rosenberg, Karen. "Nomadographies." New York Times
Aletti, Vince. "Mary Mattingly, Goings on About Town." The New Yorker
"Nomadographies." Datensklaven
O'neill-Butler, Lauren. "Mary Mattingly, 500 Words." ArtForum,

2008: "Le Prix Pictet & le développement durable / Nouvelle distinction." Photographie Magazine
"Prix Pictet Shortlist Winners." Financial Times
"Vision d'artiste Apres le Deluge." VSD Magazine
Genocchio, Benjamin. "Today's Landscapes, Tomorrow's Dystopia." New York Times

2007: "Gundel-Maria Busse, Schon Und Schrecklich." Main Echo
"Von Sylvia Staude, Holt Uns Endlich Ab." Frankfurter Rundschau
"Faut-Il Climatiser La Terre?" Le Monde Magazine, France

"Ecology:Communication with Nature." InterCommunication Magazine
"Frontier, Mary Mattingly." Drome Magazine
Sharp, Miranda. "Work by Mary Mattingly." C-Photo Magazine
"Photography in New York." Japanese Esquire Magazine

2006: Wolff, Rachel. "An Inconvenient Half-Truth." New York Magazine
"Ecotopia," Aperture Magazine
Schwendener, Martha. "Mary Mattingly at Robert Mann Gallery." ArtForum

 

AWARDS and RESIDENCIES
2023: Guggenheim Foundation Grant; KinoSaito Residency
2020: Wave Hill, Bronx, NY

Artist-in-residence at the Brooklyn Public Library, NY
2019: University of Colorado Museum of Art Residency with adjacent Fellowship
SEED Lab, Anchorage Museum, Anchorage AK

New York Foundation for the Arts Sculpture Grant
2018: Awarded, BRIC 40 Year Anniversary
Rauschenberg Foundation Captiva Residency
2017: Monet's Garden, Giverny, FR
2016: Watermill Center, Watermill, NY
2015: A Blade of Grass Fellowship, New York, NY
The Lower Manhattan Cultural Council President's Award for Visual Art
2014: Light Work Residency Program, Syracuse, NY
2013: The James L. Knight Foundation Grant
2012: Eyebeam Center for Art and Technology Fellowship
smARTpower, Artist Ambassador to the Philippines, Bronx Museum and U.S. Department of State
2011: Harpo Foundation Grant
The Jerome Foundation Travel Grant
New York Foundation for the Arts Sculpture Grant
Art Omi Artist-In-Residence, Ghent, NY
2010: Art Matters Foundation Travel Grant
Marie Walsh Sharpe Art Foundation Year-Long Studio Residency
2008: Lower Manhattan Cultural Council Workspace Residency

 

​​PUBLIC COLLECTIONS
Des Moines Art Center, Iowa
Yale University, CT
Portland Art Museum, OR
Museo Nacional de Bellas Artes de La Habana, Cuba
The Bronx Museum of the Arts, Bronx, NY
Deutsche Bank, Germany
International Center of Photography, NY
Stanford University, Stanford, CA
Art Omi, NY
Light Work, Syracuse NY
Skowhegan School of Painting and Sculpture, New York, NY
DePaul University Museum of Art, Chicago, Il
Friends of Photography, NY
Rose Goldsen Archive, Cornell University
The Richard Massey Foundation for Arts and Sciences, NY
deCordova Museum, Lincoln, MA
The Roswell Museum of Art, Roswell, NM
Cleveland Clinic Art Program
Fidelity Investments
National Resources Defense Council

LARGER-SCALE PUBLIC COMMISSIONS
Brooklyn Public Library - Greenpoint Branch
The Ace Hotel, New York
Limnal Lacrimosa, Glacier National Park
New York City Percent for Art with SOM Architects

"All things have been given to us for a purpose, and an artist must feel this more intensely. All that happens to us, including our humiliations, our misfortunes, our embarrassments, all is given to us as raw material, as clay, so that we may shape our art."
― Jorge Luis Borges, Twenty-Four Conversations with Borges, 1981-1983