Public speaking is about love.
Speaking in public has never come naturally to me, in fact, it's been a source of fear since childhood that I've worked to overcome. This challenging journey has been one that has allowed me to discover my drive for storytelling. I've been overwhelmed by the positive responses I've received from those who have heard me speak. It's profound to witness how sharing stories can inspire and empower people.
Public speaking is a responsibility and opportunity to create positive impacts. I strive to always be open and giving while sharing my art, philosophy, and motivation: my why's. I feel honored to be able to serve in this way.
Recent lectures and topics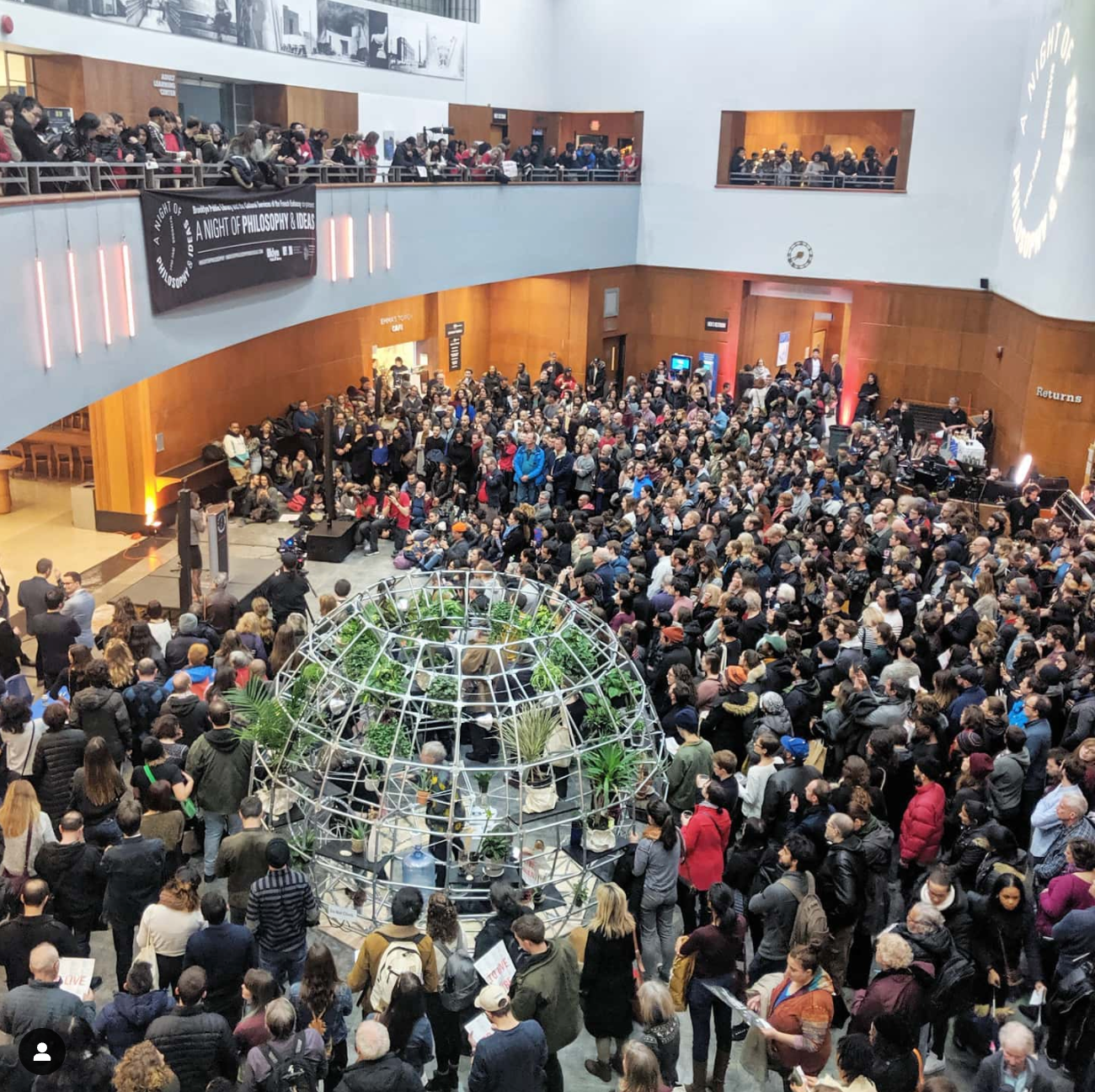 United Nations, NYC

Mary spoke about the power of art to change perceptions and perspectives, and art in public space. Csaba Kőrösi, President of the 77th session of the United Nations General Assembly, helped open the exhibition called "Disasters are Not Natural" alongside the UN General Assembly meeting "Working Together to Reduce Risk for a Resilient Future."
Telephotography, FotoFocus, OH

April 2022, Mary participated in FotoFocus, a photography conference in Cincinnati, Ohio. There, she was part of a panel discussion questioning the relevance of discerning between a center and a remote location. Mary spoke about her research work specific to the photography supply chain, the parts of the camera, the mining, production, and distribution of the elements that make the camera, film, and paper she prints on, describing the interconnectivity of places surrounding the production of photography.
School of the Museum of Fine Arts, Tufts, MA

In March 2022, Mary lectured about several ecologically-focused artworks that function as a type of soft activism that bridge concerns and communities, as part of a week-long environmental art symposium. Mary spoke about bundling the objects in her possession into large sculptures and pulling them through New York City in absurd performances that emphasize the emotional weight of those objects. She spoke about spectacle, public performance, and art as a regenerative act.
University of Cincinnati, OH

In February 2022, Mary presented her artwork to students and faculty at the University of Cincinnati in Ohio, for a lecture geared towards undergraduate and graduate students that took place over zoom. She described the importance of balancing public art projects with photography and storytelling.
CalArts, CA

In January 2022, Mary lectured at CalArts about ecological art projects as part of a curriculum that focused on imagined futures curriculum hosted by several faculty. Mary focused on co-creating regenerative culture through art, collective world-building, and talked in depth about specific projects, including the Flock House, Swale, Waterpod, Wading Bridge, and Pull in Havana.
Fordham University, NY

Mary lectured about her community based, local art projects at Fordham University in March 2022. She focused on the Swale project, a floating food forest that docked near Fordham University at Concrete Plant Park and specific community groups she worked with in order to complete the project, as well as the effects the project had on New York City Park land. Mary also focused on the Waterpod project, a precursor to Swale, one that helped to identify many community groups.
Oxford University in the UK

In 2016 Mary spoke at Oxford University in the UK about photography and environmental public art, and the power of art. 
National Gallery of Victoria, Australia

At the National Gallery of Victoria, Australia Mary spoke about her work with the US Department of State through a project called smArtpower, and how she facilitated the making of a collaborative sculpture based on a project called Wearable Portable Architecture. She also spoke about bundling the objects in her possession to make statements about her personal consumption and waste, and how to co-build meaningful actions in the world.
Alaska Design Forum, Anchorage Museum, AK

As part of Alaska Design Forum, Mary traveled to several cities and towns in Alaska including Anchorage at the Anchorage Museum, AK. Her lectures included public artworks such as Waterpod, Wetland, and Wearable Homes.
Harvard University Graduate School of Education

In 2014, with Art21s Jess Hamlin, Mary lectured at Harvard University Graduate School of Education on topics of arts-based research, public engagement and social practice in the arts, and looking towards art in the Anthropocene.
Selected Lecture Bibliography
Public Speaking
2023

*United Nations, NY

*Carbon 180, DC

*North Carolina Museum of Art, NC

*MICA, Baltimore, MD

*W&L University, Virginia

*Museum für Kunst
und Gewerbe Hamburg

2022

*Telephotography, FotoFocus, OH
*School of the Museum of Fine Arts/Tufts, MA
*University of Cincinnati, OH
*CalArts, CA
*Fordham University, NY
*Cornell University, Ithica, NY

2020

*Night of Philosophy and Ideas, Brooklyn Public Library, Brooklyn, NY
*ecofeminism(s) (panelist), Thomas Erben Gallery, New York, NY
*College of DuPage, IL



2019

*Conference on World Affairs, Boulder, CO
*Aperture, NY
*National Gallery of Victoria, Australia
*Massachusetts College of Art
*Hanes Visiting Artist Lecture Series, University North Carolina, NC
*University of Colorado, Boulder

2018

*University of Pennsylvania
*Museum of the City of New York, NY
*Watkins College, TN
*Foundation Monet, Giverny, France
*8th Floor, NY
*Provincetown Art Center, MA
*92nd Street Y, NY
*Des Moines Art Center, IA
*Light Work, Syracuse University, Syracuse, NY

2016

*Yale University School of Art
*Penny Stamps, University of Michigan, MI
*University of Oxford, Oxford, United Kingdom
*College Art Association, Washington DC
*A Blade of Grass, New York
*Alaska Design Forum, Anchorage Museum, AK

2015

*AIPAD /Art21, New York, NY
*Rutgers University, NJ
*Democracy Alliance, San Francisco, CA
*Creative Chemistries with Art21, New York Armory, NY
*Museo Nacional de Bellas Artes de la Habana, Cuba
*University of Pennsylvania, Philadelphia, PA



2014

*University of Maine, ME
*Anchorage Museum, Anchorage AK
*The Institute of the North, Nome and Barrow, AK
*Fairfield University, CT
*University of Toronto, Toronto, Canada
*Harvard University Graduate School of Education "The Future of Learning"

2013

**MoMA PS1, Queens, NY
*University of Buffalo, NY
*Art21, New York, NY
*Queens Museum of Art, NY
*The Bronx Museum of the Arts, Bronx, NY
*University of Illinois, Urbana-Champaign, IL

2012

*University of the Philippines, Manila, The Philippines
*The Bronx Museum of the Arts, Bronx, NY
*The Queens Museum of Art, Queens, NY
*Bennington College, Bennington, VT
*New School, UNFOLD, A Cultural Response to Climate Change, New York, NY

2011

*Columbia College, Chicago
*CalArts, Los Angeles, CA
*deCordova Sculpture Park, Lincoln, MA
*WINTEC, International Festival of Media and Art, Hamilton, New Zealand
*Yale University School of Art, Norfolk, CT
*Big Ideas in Art & Culture Lecture Series, with Contemporary Art Forum Kitchener and Area, CANADA

2010

*DePaul University Museum, Chicago, IL
*M.I.T. Senseable Cities Lab, Cambridge, MA
*New School University, New York, NY



2009

*Museum of Modern Art, New York, NY
*Syracuse University, Syracuse, NY
*Cornell University, NY


2007

*Artist talk, New York Public Library, New York, NY
*International Center of Photography, NY