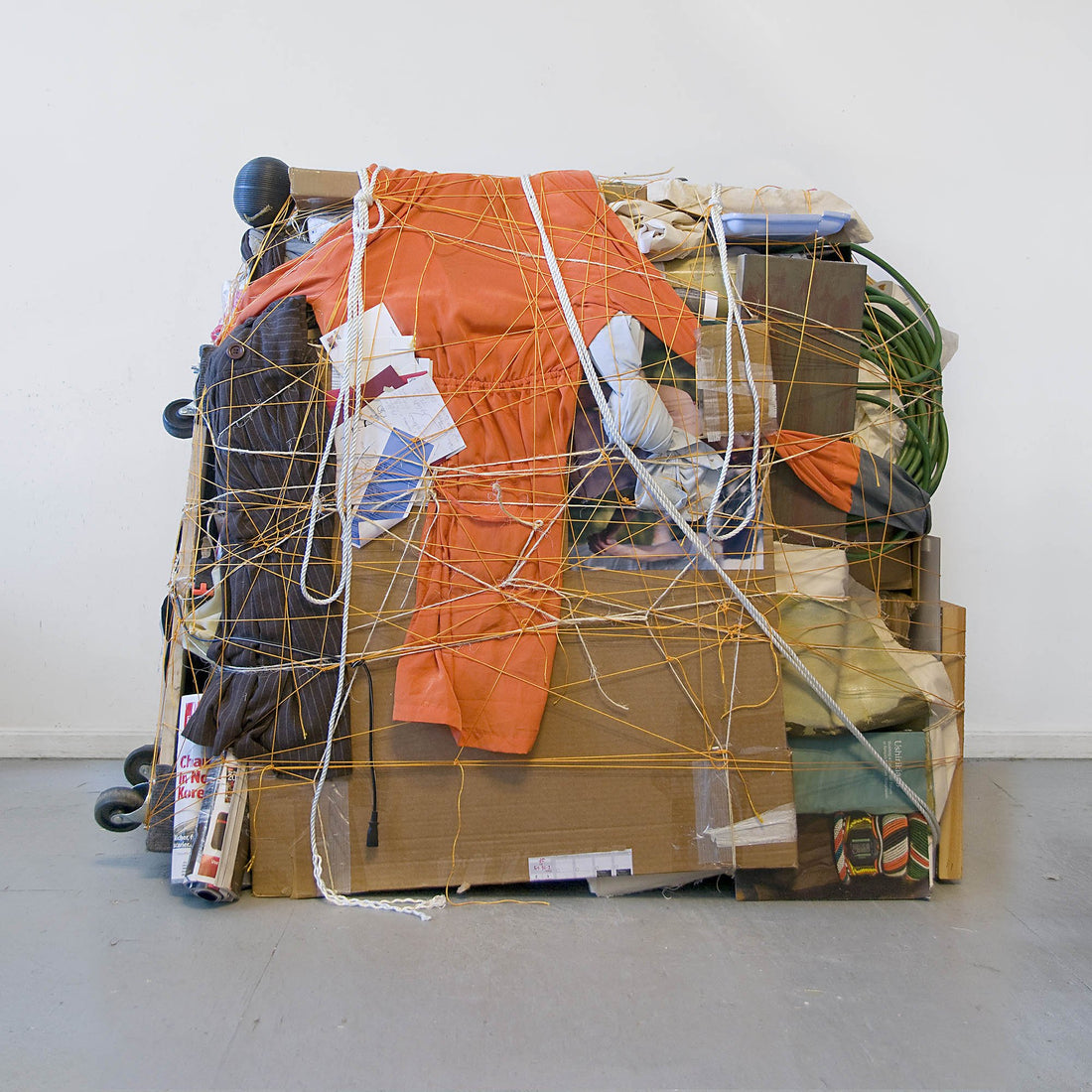 House and Universe opens at Robert Mann Gallery
From the press release: 
Mary Mattingly's photographs and sculptures propose new systems for living in radical and pragmatic ways. 
Mattingly depicts worlds both created as sculptures she inhabits and orchestrates around public spaces, and documented as observations and further speculation with digital collage. In these worlds, people are reliant on collective ingenuity for survival in an increasingly unstable environment. In photographs of tied-together boat and barge islands, bundled-together personal items, and her Flock Houses crafted from scrap, Mattingly blurs the boundary between documentation and fiction. The photographic constructions of her speculative visions create temporally ambiguous images, offering illusory fantasies of the future and records of our unfolding present. Mattingly proposes solutions that combine researched sustainable functionality with succinctly elegant and elegiac forms. With sumptuous chroma and austere framing, these photographs are at once warnings of material excess and celebrations of its adaptability.
Most recently, focusing on an object's life cycle of production, distribution, use, disposal, and repurposing, Mattingly elucidates a world less dependent on commodities than their parts as cobbled-together implements and infrastructure. She has bundled her own personal objects into sculptural forms resembling boulders, whose weight renders moving them arduous and Sisyphean. In videos and photographs, she embarked on a series of wanderings, futilely struggling to pull these massive objects. Ecology, nomadic living, and community participation have also been central to Mary Mattingly's projects. Triple Island, her next collaborative work, opened July 20 on Pier 42 in Lower Manhattan and continues through November 2013. It follows the Flock House Project (2012), which included a series of spherical living structures that migrated around New York, and the Waterpod (2009), a barge-based ecosystem with five living quarters, a public dome, a farm, animals, water collection and an autonomous power system.
Mattingly recently participated in MoMA PS 1's "Expo 1" in collaboration with Triple Canopy Magazine, received a Knight Foundation Grant for her WetLand project that opens next summer on the Delaware River in Philadelphia, and represented smARTpower in the Philippines, in conjunction with the Bronx Museum and the US State Department. Her first Art 21: New York Close Up documentary video was released in July 2013. Mary Mattingly's work has been exhibited at the International Center of Photography, Seoul Art Center, The New York Public Library, the Palais de Tokyo, Tucson Museum of Art, and the deCordova Museum. Her work has been featured in Aperture Magazine, Art in America, Artforum, Sculpture Magazine, China Business News, The New York Times, New York Magazine, Financial Times, Le Monde Magazine, The New Yorker, The Wall Street Journal, The Brooklyn Rail, The Village Voice, and on BBC News, MSNBC, Fox News, News 12, NPR, WNBC, New York 1, and Art21. Her writings were included in Nature, edited by Jeffrey Kastner in the Whitechapel Documents of Contemporary Art series. This is her third exhibition with Robert Mann Gallery.
House and Universe was covered in Artforum | ArtNews | Art in America | New York Times | New Yorker Magazine and Interview Magazine.